We often hear from couples that they loved how their destination wedding brought together friends and family that might not have otherwise had the chance to meet — and even helped to form a few unexpected friendships! To help make the most of your wedding weekend, here are some of our favorite ideas and activities to bring your wedding guests together and kick start the celebration.
A welcome cocktail reception.
That first night that your guests arrive is the ideal time to introduce everyone and set the tone for the rest of their stay. Not to fear: the party doesn't have to be an elaborate event. A simple beach party or gathering by the pool will do. In fact, many resorts offer welcome parties if you book certain wedding packages or a minimum night stay, eliminating any work on your part.
A daytime catamaran trip.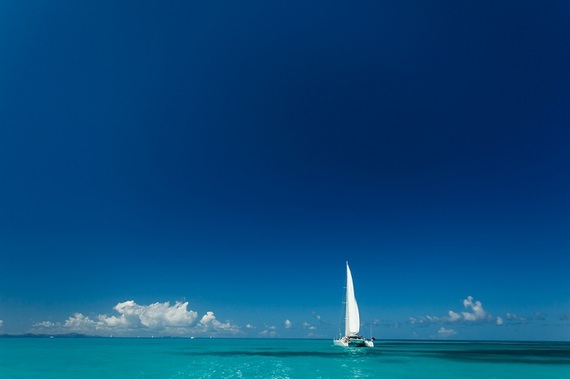 Catamaran cruises earn high marks in our book for their accessibility for all guests. From two to eighty two, the views of your wedding resort from the water are unbeatable. Plus, they come without the physical limitations of some excursions, meaning even grandma can enjoy time with the group. Guests can kick back with a cold drink and take in the scenery, or some can break off to snorkel or swim off the boat. It's a win-win for all.
Group classes.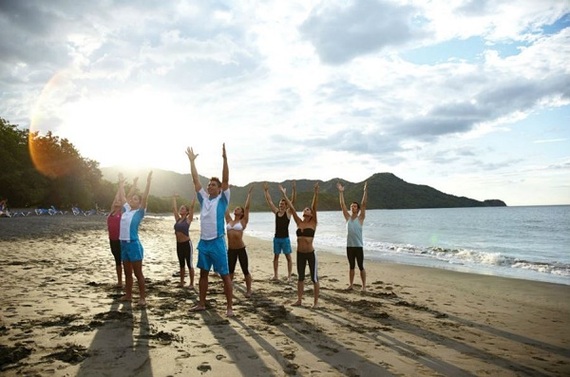 Not every group activity needs to come at an added cost. One of the many perks of all-inclusive resorts is that many offer day and nighttime entertainment that can accommodate wedding groups at no extra charge. From sushi-making classes to painting lessons or an introduction to scuba diving, try including a resort agenda in a welcome basket or weekend itinerary for guests and put a star next to classes that you plan to attend.
A wine tasting and pairing dinner.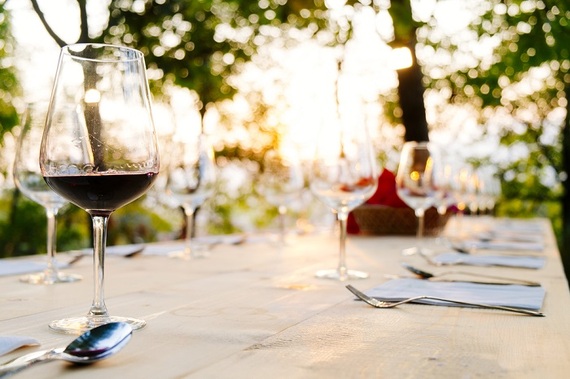 Good wine and food are always easy conversation starters, so take advantage of this winning combination just like you would at home! Many resorts will host a semi-private dinner in one of their restaurants for your and your guests with advanced notice. And with options from classic French bistro to Asian fusion, you'll have gourmet options effortlessly at your disposal.
Snorkeling.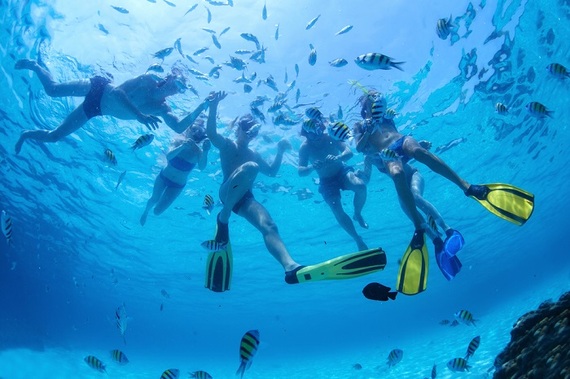 If you've opted for a Caribbean beach wedding, chances are you're not far from gorgeous reefs and an underwater world that will easily impress your guests. Snorkeling is a great group activity, thanks in part to the lack of group size restrictions. Whether you're posse is 4 or 40 deep, snorkeling is a memorable way for guests to bond and make the most of your tropical destination.
A sunset cruise.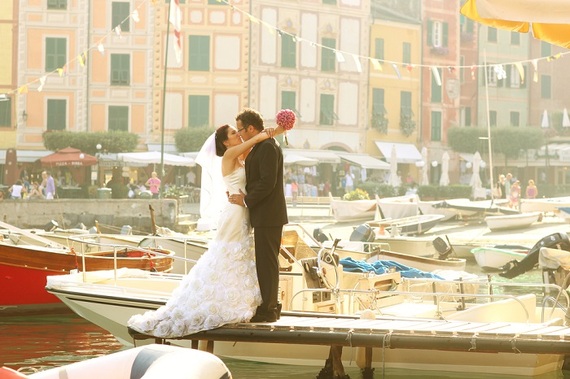 A cold drink in-hand, breezy trade winds and a marmalade sky set the backdrop for this crowd-pleasing activity. A yacht cruise at sunset is not only a great way to get guests mingling, dancing and enjoying one another, but it's also the perfect setting for a group photo. Thank you note stationary, anyone?
A spa/golf day.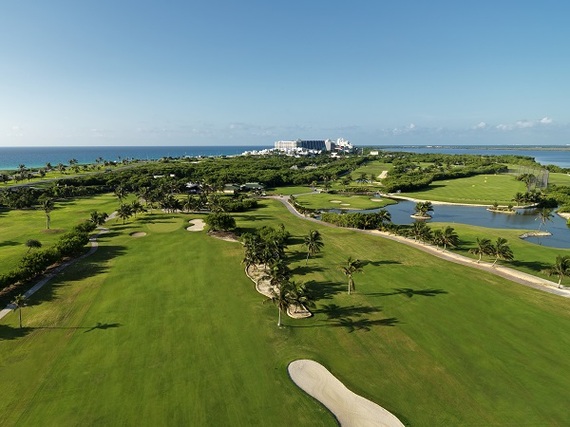 Of course, not every group outing needs to include everyone. It can be equally nice to split up into smaller groups based on interests. A split spa/golf day helps guests unwind and socialize on a more intimate level. Plus, it will likely serve as the perfect recovery from all the late night parties!
Tequila Tasting.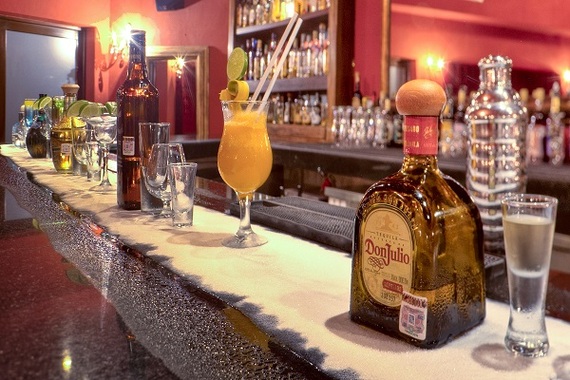 Planning a destination wedding in Mexico? Nothing gets tongues wagging (and guests bonding) faster than a tasty tequila tasting at your wedding resort. You'll likely be surprised at the number of brands many resorts carry for tastings — from house-made concoctions infused in chili peppers to unbelievably smooth local pours.
An adventurous excursion.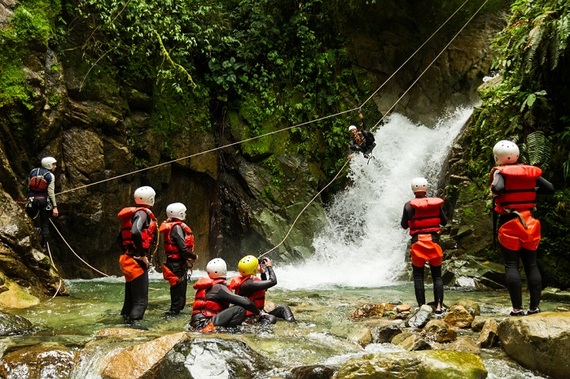 Take a hint from your destination of choice and schedule at least one exciting group excursion outside of the resort. From hikes near Mayan ruins and cenote diving in Mexico to waterfall climbing or zip-lining in Jamaica, adrenaline not only gets our blood pumping, it also creates instant memories, and perhaps even a few hilarious stories.
Wish lantern release.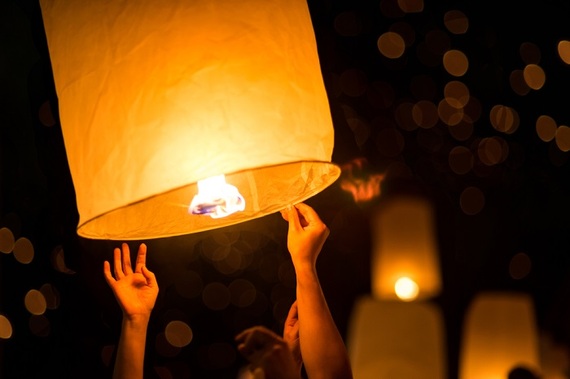 To cap off the destination wedding festivities and (perhaps begrudgingly) bid your vacation and guests 'au revoir,' try a wish lantern release. These biodegradable lights are visually arresting (your flower girl and great aunt will be equally captivated) and the perfect sendoff to end your celebration. Whether your guests make a wedding wish in your honor or just send the lanterns off, it's a moment you'll cherish for years to come.
Ready to plan your dream wedding?
Wedding Travel Agents Bring Dreams To Life
We are a destination wedding travel agency based in Bedford, NH – small enough to care deeply about building lasting relationships with you, and large enough to work with couples across the country. Our Destination Wedding travel agents combine their drive for personal service and expertise with resort partnerships around the world. As a result, you are afforded an exclusive and unrivaled one-stop wedding travel agent experience. We're here solely to make it easy for you to plan an amazing destination wedding. Our destination wedding travel agents have worked with many couples like you, and hundreds of guests, to plan destination weddings that make it feel like your dreams have come to life. A Destination Wedding travel agent from Vacationisms will guide you through the destination wedding planning process and make all of the logistics much easier than trying to handle it yourself.
The best part?
Our standard services are $0!
Our no-fee destination wedding travel agent services include:
DESTINATION SELECTION: We'll help you cut through the noise to find the best destination wedding location for you. From romantic all-inclusive resorts in the Caribbean on the best beaches to the most secluded mountain top retreats, we probably have an idea up our sleeve from our first conversation. Your destination wedding travel agent can give you the inside scoop.
WEDDING PACKAGE SELECTION: Your personal destination wedding travel agent can quickly and easily get you all of the details on the best destination wedding packages. Because we specialize in this area, it's easy for us to quickly sort through what you're looking for – because the "best" is different for everyone.
CONTRACT NEGOTIATION: We literally do this for a living, and you can rest assured that we know the in's and out's of securing the wedding package best for you. Plus, our destination wedding travel agents have access to exclusive offers that the general public doesn't.
ADVICE: We will help you with everything from invitation wording, to destination wedding etiquette and can assist with wedding theme brainstorming.
TRAVEL ARRANGEMENTS: You will have your very own destination wedding web page with all of the important details to provide for your invitees. They can book right online, making the process easy for everyone.
EMERGENCY TRAVEL ASSISTANCE: Should anything happen while travel, you will be able to reach a representative 24/7 to assist you quickly and easily. No hold times. No call centers. We take our clients personally, so you get us.
Also Available:
ONSITE ASSISTANCE: You can choose to have your destination wedding travel agent join you to provide onsite assistance with last minute details, coordination and resolution of any issues.
PHOTOGRAPHY, MAKE-UP & HAIR SERVICES: We work closely with a group of professionals who offer destination wedding services. We have agreements with them to make it affordable to bring in verified professionals.
My wedding travel agent saved my LIFE! I was so overwhelmed when I found Vacationisms that I wasn't even excited for my own wedding anymore. She was so patient with me and so thorough in her recommendations, it turned the entire process around. It took only a week for us to pick the perfect resort, get the contract, and get this wedding booked. She has been crazy responsive and their whole team has been there for us every step of the way.
Brianna
I thought it would be a great idea to handle it myself – but I was so wrong. I called a Vacationisms destination wedding travel agent after booking our wedding myself because it took less than a month for the whole thing to become so complicated. Our destination wedding travel agent was able to take the reins on all of the minutia for me. My guests love my agent and she made it so easy for all of us. Our wedding would not have been so easy if I had continued handling it myself. These guys are the real deal.
Sarah
I called before I even proposed. I knew we wanted to take the destination wedding route, but didn't know where to start. Our travel agent was so great at giving me the entire rundown on what to expect before I pulled the trigger. We pulled off the entire planning process over only a 5 month engagement – and it was seamless. I highly recommend working with Vacationisms!
Tim
Call In A Destination Wedding Specialist.